Keg Services
Give Your Kegs a new life with UBC keg rebranding, repair and keg maintenance services.
Keg Spear Repair & Maintenance
UBC Keg Service Technicians have been trained by, and our facilities designed under the direct guidance of Micro Matic. We are soon to be Micro Matic Certified in both our locations in Canada to repair and refurbish Micro Matic D System keg spears. We will refurbish your keg spears to like-new condition, including re-passivation and pressure-testing, saving you money on buying new kegs.
learn more
---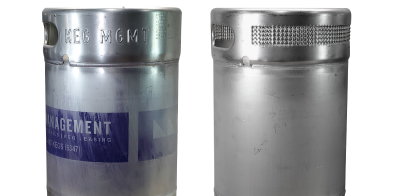 Refurbishing Used Stainless Steel Kegs
Kegs are your capital. We assist you with keeping your keg pool in good condition. Our trained personnel carry out keg rebranding and repair services. We only use new OEM parts that are current and up to date because this is the only way to extend the operating life of your kegs.
learn more
Benefits of Rebuilding & Reconditioning Kegs:
Mitigates safety risks for the public and brewery employees
Extends the life of a brewery's existing float and reduces future keg needs
Insures that the keg is "fit for fill" and will not damage keg processing equipment
Eliminates costly returns of defective kegs from wholesalers or retailers for defective kegs
Reduces risk of "off taste" product
A consistent keg service can easily prevent faults in your stainless steel kegs' cleaning, filling and beer dispensing processes. With our keg service range, you can eliminate deformation and potential leaks in your stainless steel beer, wine and soft drinks kegs. This not only ensures the customary smooth operations, but also your brand presentation: smart looking stainless steel kegs with water-tight fittings are always a sign of your company's quality aspirations. In addition, flawless kegs reduce customer complaints and consequently increase their satisfaction.
Keg repair should never be attempted without specifically designed tools and training. If repairs are performed by untrained staff without the specifically designed repair tools, the repair process and the repaired kegs and valves all pose a significant safety risk to the public and brewery employees.